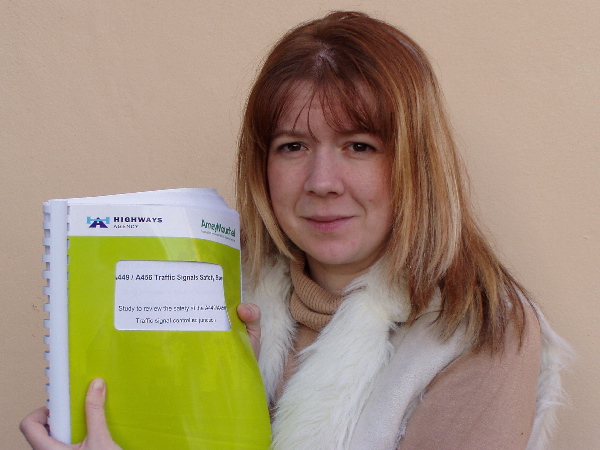 Council backs Liberal Land Oak Motion...
Wyre Forest District Council voted unanimously on Wednesday night to support a Liberal Motion opposing the proposed banning of traffic turns from the A456 Birmingham Road onto the A449 Chester Road North at Kidderminster's Land Oak Junction.
Moving the Motion Liberal Leader Cllr Mike Oborski said:-
Chairman, I am moving this motion and my colleague Cllr Lewis will Second.
Chairman, It is lucky that I am in a good mood today. In fact I am in a very good mood. Yesterday morning my Consultant told me that I am currently free of cancer. As a result I am all sweetness and light and some of you have had a very lucky escape indeed! I would like to thank all members of the Council for their kindness to me, and particularly to Fran, over a difficult period.
We have, you see, been told on this issue—in a leaflet—that we are "False Prophets" that we are "merely scare-mongering" and basically that there is no truth whatsoever in the idea that there is any such suggestion as a ban on traffic turns at Land Oak.
Normally, I would be launching into a full scale attack on Messrs Taylor, Stokes and Martin both for making those charges in print and for failing both to apologise or publicly correct their statements. Indeed, I would have been about to have let our group rotweiller lose on Cllr Stokes. But, as I am in such a good mood I am keeping Fran metaphorically chained and muzzled. However, I cannot promise that Health Concern will like our next Broadwater's Focus which will be neither chained nor muzzled.
Chairman, the news of a proposed ban on turns from the A456 Birmingham Road onto the A449 Chester Road North reached us via a leak in February.
The proposal came from Amey Mouchel—the contractors to the Highways Agency. It later emerged that Amey Mouchel had consulted the County Council who had FAILED in their duty to consult the local County Councillors—namely Fran and myself. The County Council have subsequently apologised to us in writing for that failure.
If anyone still doubts the seriousness of the threat I have hear the Amey Mouchel report on the Land Oak Junction. It runs to 122 pages. It was compiled in February. It was "signed out" for release on 28th March. In other words they supplied the report to the County Council AFTER they had consulted them about it! Crazy but true. The County responded on March 8th to a report sent to the on 28th March.
The Summary at the beginning makes matters perfectly clear. It says "These investigations have resulted in recommendations to prohibit the left and right turn from A456 to A449". That is it fair and square.
As those of you who know the Land Oak Junction well know only too well you cannot go passed the junction at any hour of the day and night without seeing heaps of dismembered limbs at the kerbside, mountains of wrecked vehicles by the road side and a steady stream of blood pouring down the gutters while the British Motor Insurance Industry is reduced to bankruptcy and penury.
We actually no. There have been 1 "serious" injury accident at the junction in the last 5 years of available official statistics and 19 "slight" injury accidents. There have been no fatalities.
20 injury accidents in 5 years sounds serious and, yes, of course each and every accident is important. However, you have to remember that on 29th June 2005, the date on which they surveyed traffic flow on the junction between 7am and 7pm a total of 20,084 vehicles crossed the junction, heading in one direction or another over that 12 hour period.
Assuming 29th June 2005 was a reasonably average days that indicates 140,588 movements across the junction every week. That is 7,310,976 movements across the junction per year.
So, in the 5 year period in which the 20 accidents occurred (none fatal, 1 serious and 19 slight) occurred there were 36,554,880 traffic movements across the junction—and the movement figures only cover 12 out of 24 hours per day!
The percentage of movements resulting in these accidents was 0.000054%!
What is infuriating is that had the Highways Agency wanted to do something sensible they had the opportunity. They could have negotiated to purchase land from both the Land Oak House Development and the opposite development on the former Garage site. No problem! But of course they didn't!
Instead they have come up with this proposal to ban turns from the Birmingham Road onto the Chester Road North.
The proposal is OPPOSED by the Police. The proposal is OPPOSED by the County Council. We have thousands of signatures on a petition opposing the proposal.
The turning ban would cause chaos on the Birmingham Road for motorists suddenly finding that they couldn't go where they want to go. It will cause the most amazing difficulties for residents living around the junction. It will cause chaos around the junction for businesses whose customers and suppliers will be unable to get to them. Above all it will turn many, many local roads into rat runs. I am sure that Cllr Lewis will want to say more about all of that in a moment.
Chairman, the Police and the County Council believe that any issues can be resolved by minor traffic flow layout changes in exactly the way it has been done at the Comberton Road and Chester Road Junction by King Charles I High School.
The turning ban proposal would be an absolute fiacso. It is a classic case of a contractor being paid to generate a proposal which they would then get paid for implementing. The only beneficiary would be the contractors.
This proposal is bad for motorists, bad for residents and businesses around the junction and disastrous for neighbouring residential roads which would be turned into "rat runs" at a stoke. The County don't want it. The Police don't want it. The public don't want it. Help us put a stop to this rubbish. Vote for the motion.
Seconding the Motion Cllr Rachel Lewis said:-
Chairman,
The more you look at this proposal the more idiotic it appears!
Let's start with the initial impact on the Birmingham Road itself if this proposal was introduced.
Can you imagine the chaos on the Birmingham Road as cars arrive at the Land Oak junction only to find they cannot perform their expected turns onto Chester Road? Can you imagine the dithering and danger as drivers puzzle out how to now get to where they want to go? The risk of accidents will be bad enough.
Residents living immediately around the Land Oak Junction will find themselves in an intolerable position. How, for example, will residents from say Land Oak Drive—just off the Birmingham Road by the Land Oak Pub—be able to get round the corner to head along Chester Road North towards either Broadwater's Parade or, more interestingly, the Railway Station? Just think about it? It's a nightmare?
And what about the businesses around the junction — the Carpet Factory and the Land Oak Pub itself?
How will their customers come and go? How will their suppliers come and go? The big beer lorries arrive at the Land Oak Pub in the very early hours of the morning. They come from the Birmingham direction along the Birmingham Road and swing right onto Chester Road North at the junction and then swing right again, almost immediately into the pub car park.
If that turn is not allowed how will they get there? Most likely along Baldwin Road, along Hurcott Road and left into Chester Road and left into the pub car park. In other words they will thunder in the early hours along residential not main roads when they get to Kidderminster. And yes, that is what the Brewery itself has told us will happen.
And that, Chairman, brings us to the enormous core mistake which lurks at the very heart of these proposals. You see the geniuses who came up with this proposal somehow assume that diverting traffic will somehow find its way onto "A" roads such as the Ring Road, the Bromsgrove Road and the Stourbridge Road.
What they ignore is the reality that in reality traffic will actually divert onto nearby residential roads turning them in the process into congested overcrowded "rat runs".
Cars coming from the Birmingham direction And wanting to turn left off Birmingham Road onto Chester Road will flood — regardless of the weight restriction order — onto Linden Avenue — a road only recently rescued by that weight restriction order from years of misery as a "rat run". If this proposal goes ahead than "they ain't seen nothin' yet" along there!
Traffic from the Birmingham direction wishing to turn right onto Chester Road will cut up Baldwin Road and Bruce Road and along Hurcott Road — a road already pleading for traffic calming. Residents of all the side roads off Hurcott Road will find themselves inconvenienced by the increased traffic on Hurcott Road—which—with parking on both sides—narrows in places to a single lane coping with traffic coming from both directions.
Coming out of town it is a fair bet that Roden Avenue and Shrubbery Street will be hard hit but — like the ripples from a stone dropped in a pool — the problems created by this proposal will spread out across a wide area of residential streets on the East of Kidderminster.
Cllr Oborski has made the point that this proposal is an inappropriate and extremely large hammer which will fail to deal with the rather small nut at the heart of the problem.
Issues at the junction can be dealt with by minor design modifications.
The ban on turns from Birmingham Road onto Chester Road North would be a nightmare for motorists, local residents and local businesses and—above all—it would turn a large number of nearby residential roads into a maze of over congested "rat runs" driving everyone—motorists and residents—mad and generally adding to the danger of our local roads.
I ask you all to support the motion which, Chairman, I hereby formally second.
19.04.06
---
Land Oak Report Threat!
Local Liberal Councillors say they are worried that Highways Agency consultants Amey Mouchel are still pushing proposals to ban traffic turning off the A456 Birmingham Road onto the A449 Chester Road North at Kidderminster's Land Oak Junction.
Greenhill Councillor Rachel Lewis explained today "despite consulting the County Council and the Police about the proposal back in February the full 122 page report on the proposal apparently compiled during February was only "signed off" and "authorised for issue" on March 28th which indicates that they are still very serious about the proposal."
Cllr Lewis said only 6 copies of the report exist.
Cllr. Lewis said today "There has been a marvellous response to the Petition against the proposed ban which would create mayhem for motorists, local residents and nearby businesses while turning local residential roads into congested "rat runs".
Cllr Lewis said "We would ask anyone who still has petition forms to get them back to us as soon as possible so that we can present the completed Petition to the Highways Agency as soon as possible".
Liberal Councillors have tabled a Motion opposing the turning ban for Wednesday's Meeting of the Wyre Forest District Council.
- 16.04.06
---
Liberals table Council Motion
Liberal Councillors have tabled a Motion for next week's Meeting of the Wyre Forest District Council urging the Council to oppose proposals to ban turns from the A456 Birmingham Road onto the A449 Chester Road North at Kidderminster's Land Oak Junction.
Cllr Fran Oborski described proposed ban as "a total recipe for motoring chaos on the main roads and huge traffic flows on local residential roads as they turn into "rat runs"!"
The Motion reads:
THIS COUNCIL totally opposes the Amy Mouchel proposals to ban turns from the A456 Birmingham Road onto the A449 Chester Road North at Kidderminster's Land Oak Junction.
Council believes that the implementation of the proposal would cause severe disruption for motorists, local residents and adjacent businesses and would inevitably lead to chaos on the many residential roads in the area which would be instantly converted into "rat runs".
13.04.06
---
Latest Update (21.03.06)...
Just like Harry Potter film!
Kidderminster Liberal Councillors say that the massive response to a local petition "has been like something out of the early scenes of the first Harry Potter film!"
"Just as in the film the Dursley household is bombarded non-stop by Owls delivering letters offering Harry a place at Hogwarts so we are being bombarded by residents returning completed petition forms opposing the idiotic proposal to ban turns off the Birmingham Road onto Chester Road" said Liberal Group Leader Mike Oborski today.
"You scarcely have time to pick up one petition form before another hurtles through the letter box!"
"The public response has been absolutely fantastic. This is a really overwhelming and solid community response. Let's hope it continues like this!
---
Latest Update (16.03.06)...
COUNTY COUNCIL KNEW ALL ALONG BUT DIDN'T TELL ANYONE - NOT THE PUBLIC - NOT EVEN THEIR OWN LOCAL COUNTY COUNCILLORS! NEW TWIST ON THREAT TO BAN TRAFFIC FROM TURNING OFF BIRMINGHAM ROAD ONTO CHESTER ROAD AT LAND OAK JUNCTION!
In a new twist of events it now turns out that Worcestershire County Council Highways Department have known all along about secret Government Highways Agency plans to ban motorists from turning off the A456 Birmingham Road onto the A449 Chester Road at Kidderminster's heavily trafficed Land Oak junction.
Greenhill Liberal District Councillor Rachel Lewis, who originally uncovered the secret Highways Agency plans for theLand Oak Junction, has now received a letter from the Highways Agency in which they say:-
"The Study Report was in draft form only and copies of the report were sent to Worcestershire County Council for their comments on our proposal".
Cllr Lewis said today "It appears that neither the general public nor the local County Councillors for the area have ever been informed, let alone consulted, by Worcestershire County Council despite the fact that the County Council has clearly been fully informed about what is going on. This is a total disgrace. Yet again the County Council has everybody down."
In a joint statement today the two local Liberal Kidderminster County Councillors whose electoral divisions meet at the Land Oak Junction, Cllr Fran Oborski (Kiddeminster, St. George & St. Oswalds) and Cllr Mike Oborski (Kidderminster, St. Chads) confirm that they have never been informed or consulted on the issue by County Hall.
In their statement the two County Councillors say "The County Council Constitution says that there should be no surprises for local County Councillors - they should be kept informed on everything affecting the areas they represent. Our experience is that this very rarely if ever happens. Usually local County Councillors are left totally in the dark and this is simply the very latest example of that don't give a damn for local County Councillors attitude at County Hall!"
"Time and time again we have been let down by County Hall. They keep us is the dark and they don't tell us - or the general public - anything!"
The two Councillors say "The County Council has now confirmed that it has known about the proposal for a month."
"We have now received a letter from the County Council dated 15th March apologising for not informing local County Councillors."
"We welcome the fact that on 7th March the County Council told the Highways Agency that they wanted to "raise concerns" over the proposal because of the risk of displacement of turning vehicles onto Linden Avenue and Roden Avenue."
"However, we want a far tougher response - it isn't time to "raise concerns" it's time to fight the proposal. Furthermore the initial County response doesn't even mention Baldwin Road and Hurcott Road which would be two of the hardest hit local roads!"
"The proposal to ban turns off the Birmingham Road onto Chester Road North at the Land Oak Junction is clearly barking mad!"
"Yet again the County Council has behaved disgracefully!"
Cllr Rachel Lewis said today that she was "delighted by the huge public response against the proposed no turning ban".
"Petition forms, which we have delivered to 12,000 households on the eastern side of Kidderminster have been flying back to us and lots of local businesses, groups and individuals have asked for extra Petition Forms."
"Public opinion is clearly overwhelmingly united against this stupid, ill considered and totally inappropriate proposal."
Cllr Lewis said that she "and local Liberal County and District Councillors across the east of Kidderminster will be fighting flat out to block the proposed turning ban".
---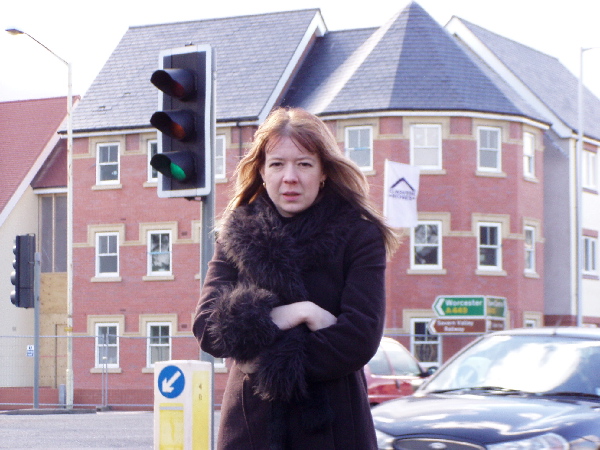 THE ORIGINAL STORY...
Secret traffic flow plans for Land Oak junction would cause total chaos...
"Secret plans to change traffic flow at a major Kidderminster Junction would cause havoc, chaos and congestion for thousands of local residents and for vast numbers of motorists from Wyre Forest and beyond" a Kidderminster Councillor claimed today.
Greenhill Liberal Councillor Rachel Lewis has obtained a copy of a letter from the government Highways Agency contractors Amy Mouchel who are privately consulting other agencies on proposals to drastically alter traffic flows at the busy A449 Chester Road North and A456 Birmingham Road junction at Kidderminster's Land Oak.
The letter says that "A full study has been undertaken and a number of recommendations are to be put before the Highways Agency".
"The letter then spells out a three part package of which the first two proposals, tactile paving and dropped kerbs at all crossing points along with anti skid surfacing on approaches to the juction are perfectly sensible, totally acceptable and completely uncontroversial"
"However, the third part of the package is absolute dynamite" said Cllr Lewis, and is a proposal to:-
"Prohibit the right and left turns from the A456 to the A449"
>P> "Simply nobody would be allowed to turn left or right in either direction off Birmingham Road and onto Chester Road North."

"This would cause enormous confusion and diversions for motorists and absolute havoc on neighbouring residential roads which would be turned at a stroke into heavily overloaded and congested 'rat runs'."

"Hardest hit would be Baldwin Road, Bruce Road and Hurcott Road on one side of Birmingham Road and Linden Avenue on the other side which would all be blocked with traffic heading from Birmingham and from the Eastern edge of Kidderminster using them as 'rat runs' to get onto Chester Road North in one direction or the other. They were simply not designed to take that sort of level of traffic. Residents on all the residential streets leading onto Hurcott Road would be affected by heavily increased traffic on Hurcott Road"

"Traffic coming out of town on Birmingham Road and wishing to access the A449 would pour onto Roden Avenue and Shrubbery Street."

"A number of businesses around the junction would be hard hit as it suddenly became harder to get to them from various directions and some householders close to the junction would find themselves faced with the the most peculiar diversions to get to and from particular destinations!"

"The ripples from such a change would spread out causing problems and issues across a wide area of Kidderminster and would affect motorists from all over the place."

Cllr Lewis described the proposal as "a bewilderingly idiotic prescription for unwarranted chaos and inconvenience on a massive scale. It must be stopped!"

Cllr Lewis and Liberal colleagues are today launching a petion against the proposal.

Cllr Lewis can be contacted foir copies of the petition on (01562) 68361.