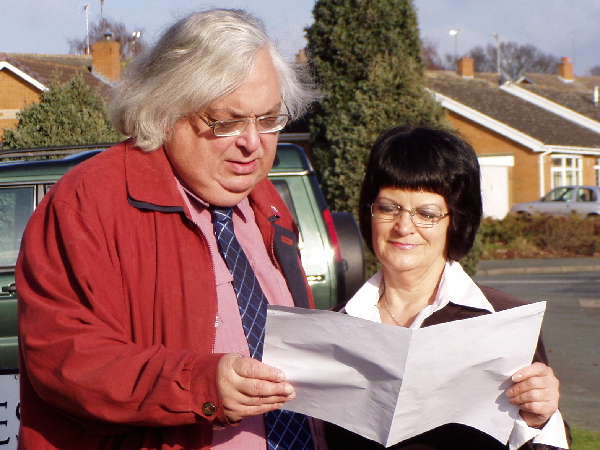 TENNYSON WAY - HERE WE GO AGAIN! BETRAYED!
As Worcestershire County Council breaks yet another pledge to tackle traffic problems on Kidderminster's Tennyson Way a furious local Councillor has described the situation as "an ongoing and shameless saga of broken promises and let downs by an apparently reckless and uncaring authority which is completely failing the local community".

Local Liberal County Councillor Mike Oborski explained today "Over the last few years the Tory County Council has repeatedly promised a Pelican Crossing on Tennyson Way - by the Wordsworth Crescent Junction leading to Offmore First School - as part of the 'Safe Routes To School' package. 'We'll do the Spennells Valley Road Pelican Crossing, then the Comberton Road Pelican Crossing and then we'll do the Tennyson Way Crossing" they pledged! That was the repeated 'promise' made from the County Council".

"As late as Thursday 12th January this year they were promising a Pelican Crossing. Then a couple of days later they were suddenly talking about only doing little more than 'kerb drops' with NO Pelican Crossing."

Cllr Oborski continued "On Thursday 19th January I met County Officers and Police to discuss the issue. At that meeting...
- In a last minute betrayal the Officer acting on behalf of the Tory run County Council made it absolutely clear that the County now refused to spend the £95,000 needed for a Pelican Crossing. They said that they could no longer afford it!

- They then proposed "road narrowing" measures on Tennyson Way either side of the junction rather than just the earlier desperate kerb drops madness.

- At my insistence they eventually agreed to include a zebra crossing along with the "road narrowing" proposal at a total cost of £45,000.

- They then announced that if the £45,000 isn't spent in this Financial Year (by the end of March 2006) the money available for Tennyson Way would be only £25,000. In other words the message was you agree now or get nothing,

- Finally they then PROMISED full public consultation on the Zebra Crossing package in February this year in order to ensure a start on site before the end of the current Financial Year - that is before 31st March 2006. They promised faithfully that this must and would happen!"
Cllr Oborski said "Late on the afternoon of Wednesday 22nd February I was phoned by County Highways. I was told that they will NOT be going out to local public consultation in February and that they will NOT be starting work by the end of March"
"Apparently they don't know how much cash they have left for work this year and they don't know how much cash they will have next year and so they cannot commit to anything at the moment!"
"At least that was the story on 22nd of February although goodness knows what the story they will be coming up with tomorrow or the day after!"
"They now promise that they will come back with some sort of idea in a few weeks time."
"This a totally disgraceful, dishonourable and unacceptable way in which to treat the children and parents of Offmore First School and the local community in the Offmore area!"
"I am deeply ashamed of and very bitterly angry with the County County Council of which I am a member. It should curl up and die of shame!"
"If the County Council is to retrieve any last shred of credibility in this area then it should get a grip, get sorted and start to deliver what it promised and this community needs. Nothing else is acceptable."