Born in Cardiff, educated in Cheshire Siri trained as a Nurse at Queen Elizabeth Hospital Birmingham.

She holds a Masters Degree in Healthcare, Policy and Management;

A long serving Theatre Sister at Kidderminster Hospital Siri is passionately committed to defending local Hospital and Health Services;

Siri is married with two grown up children both educated at local schools;

Siri is a long standing local resident living in the Ward at 10 Granville Crest on Offmore;

Siri has been a Wyre Forest District Councillor and Kidderminster Charter Trustee for the last 10 years representing Offmore and Comberton;

Siri had a highly successful year as Mayor of Kidderminster 2004/2005;

Siri is currently a Member of the Housing, Health & Rural Affairs Panel and of the Planning Development Control and Ethics and Standards Committees of the District Council;

Siri has a reputation as a first rate, hard working, caring and effective local Councillor and campaigner for the Offmore and Comberton Ward;

She is a Governor of Comberton First and Offmore First Schools;

Siri is an active member of St George?s CE Church in Kidderminster.
---
You've said it yourself..
?We cannot afford ever growing Council Tax Bills!?
AGREED! - It?s time to scrap the Council Tax and replace it with a fair and affordable system of Local Income Tax. We want first rate services AND real value for money and the answer has to lie in greater efficiency. We cannot go on losing half a million pounds a year in Wyre Forest simply because Council offices are spread all over the place. This must be sorted and fast!
---
?The Police are never around when you need them.?
AGREED! - We?re fighting flat out for a safer town with more Police on ?the beat? - and a LOCAL Police force NOT regional Police Forces!
---
?We need Hospital services HERE, in Kidderminster.?
AGREED! - We demand a return of key services to Kidderminster Hospital and no more downgrading under any circumstances!
---
?Our roads and public transport are a total disgrace.?
AGREED! - Our aim is frequent and reliable Public Transport and real action to improve roads, pavements, potholes, parking and traffic flow!
---
?Which schools will our children actually go to?!?
AGREED! - The so called Wyre Forest Schools Review has been a total mess. Children MUST be able to get into the nearest and most convenient local schools IF that is what parents want! We want clear guarantees on local school places for all and we want that now!
---
?We need houses that people can actually afford.?
AGREED! - We desperately need good quality affordable housing, better employment opportunities and first rate shopping facilities locally!
---
?The litter and dog mess are disgusting. It needs sorting.?
AGREED! - We?re campaigning for cleaner streets, better maintained parks, play areas and open spaces, protected Greenbelt and proper, sustainable recycling!
---
?There simply isn?t enough to do around here.?
AGREED! - We are fighting for a full scale cinema, arts centre and a wide range of sports, leisure and cultural facilities and opportunities for local people!
---
?They just don?t care about what people need.?
AGREED! - We are determined to get a fair deal with first rate services in a caring community for the old, young, families, disabled and disadvantaged ? for everyone!
---
Our Pledge!
- We want a Council that really takes YOUR views onboard BEFORE decisions are taken.
- We want a Council that cares and knows how to turn caring into action and Councillors who stay in touch all the year round!
---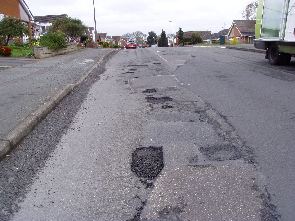 And yet more potholes!
...reports Cllr. Siri Hayward - 26.04.06

---
Council unanimously backs Liberal package against Hospital cuts!
...get all the details here! - 19.04.06

---
Council unanimously back Liberal Motion against Land Oak turn ban!
...read what Mike Oborski & Rachel Lewis had to say - 19.04.06

---
Liberals table Motion against Hospital cuts!
...and are the only Party to do so! - 13.04.06

---
Liberals table Land Oak Motion!
...opposing the proposed ban on turning from the A456 to the A449 at Land Oak - 13.04.06

---
Schools face funding crisis down the line!
and you may not be able to get your child into the school of your choice - 12.04.06

---


---
Allotments clean up needed!
...says Siri Hayward - 25.03.06

---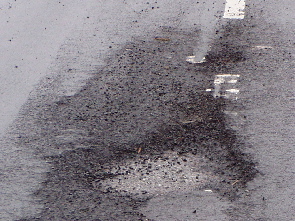 Yet more potholes!
...reports Siri Hayward - 25.03.06

---
Go ahead on old Comberton Arms site development!
...reports Siri Hayward - 25.03.06

---
Pot holes filled but more is needed
...on Borrington Road says Cllr Siri Hayward - 24.03.06

---
Just like Harry Potter film!"
Amazing petition response - 21.03.06

---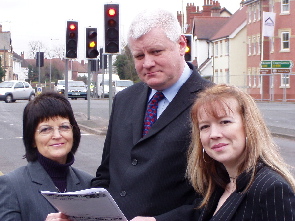 Land Oak turning ban proposal - Latest update - Turns out the County Council knew all along but didn't tell anyone! - 16.03.06

---
WATER LEAK ACTION
The water leak from a stop cock on Shakespeare Drive was spotted at 2.15pm, reported straight away and Severn Trent were on the spot by 4.30pm. Let's hope they managed to get it sorted! - 15.03.06
---
MAD PLAN TO STOP CARS TURNING FROM BIRMINGHAM ROAD ONTO CHESTER ROAD
Local Liberal Councillors have obtained a secret letter from Government Highways Agency Consultants saying that they want to...
"Prohibit the right and left turns from the A456 to the A449"
As Siri explains "Simply nobody would be allowed to turn left or right in either direction off Birmingham Road and onto Chester Road North at Land Oak."
THIS WOULD LEAD TO TOTAL CHAOS!
"This would cause enormous confusion and diversions for motorists and absolute havoc on neighbouring residential roads which would be turned ? at a stroke ? into heavily overloaded and congested 'rat runs'!"
---
Yet another Tory County Council stab in the back over Tennyson Way?
For years they promised a Pelican Crossing near Offmore First School on Tennyson Way;

Mid-January this year they suddenly said no cash and no Pelican Crossing;

Under pressure they then promised faithfully that there would be public consultation on a zebra crossing by the end of February and that work would and must start by the end of March.
Well here come the latest stab in the back!
Now they say NO consultation by the end of February and NO start on work by the end of March because they don?t know how much cash is left to be spent by April or how much there will be for this type of work in the new budget from April!
Yet again we?ve been totally let down and betrayed. The fight goes on!
---
THE NEW FREE CONCESSIONARY FARES SCHEME! HOW IT WORKS?
Here is your easy to follow guide to the new improved scheme. Don?t worry, it?s really very simple?.
Free concessionary fares on any bus journey starting or finishing in Worcestershire starts April 1st.

Existing bus pass holders will automatically be sent the new passes in the week starting March 20th.

New Applicants can get them from the Wyre Forest Community Housing Office in Oxford Street during the weeks starting March 20th, March 27th and April 2nd and from and Wyre Forest District Council cash office after April 10th.

Free bus passes are available to over 60s and anyone who is blind, partially sighted, profoundly or severely deaf, without speech, has a disability or injury that severely impairs ability to walk, has a learning disability or isa specified companion to a disabled person;

Proof of age or disability is required.
Get in touch if YOU need further information!
---
BARNETTS LANE?
Three Point point action package?
In the new financial year, starting April 1st, County Highways will provide a new illuminated sign at the Comberton Road end - opposite the existing one at the mouth of the junction.
At the Chester Road South end Highways Agency contractors have been asked to replace the missing ?Access to frontages only? sign.
Meanwhile the Police have promised to step up enforcement of the Access Only Order.
Great turn out at Offmore Shops redevelopment exhibition
?87 local people made it to the recent exhibition at the Offmore Community Centre? report Siri and Fran. On the whole there was a warm welcome for the key elements of the proposal?to build new shops BEFORE the old ones are demolished, to move the shops across nearer to The Cavalier and to provide a wide range of 2, 3 and 4 bedroom bungalows and houses on the rest of the site.
The one bit that was clearly totally unacceptable was the idea of putting new garages backing onto the frontages of the existing houses at the top of Longfellow Green. There was overwhelming demand to use the opportunity to provide front road access to those houses. It was also unanimously agreed that the new access road through connecting Dunbar Cl and Gray Cl must NOT be a through road. Housing Company Officers have gone away to consider all the responses and redraw the plans to take onboard all these points.
IF YOU MISSED THE EXHIBITION AND WANT TO SEE THE PLANS PHONE US ON 823911 NOW!
---
Chaddesley Road Survey!
A big thanks to everyone who responded to our recent Chaddesley Road / Holmcroft Road survey. There was a massive response. 85% of you said KEEP the no right turn onto Chester Road North and that?s what we will be telling County Highways Officers. It is a resounding NO to Aggborough & Spennells Tories plan to interfere with the junction so that they can whizz through at high speed!
Chester Road Allotments?
Following concerns from local residents we have asked the Council to take action to stop rubbish tipping report Siri, Mike and Fran. One eagle-eyed local resident got the details of a local builder dumping waste on the allotments. Meanwhile we are asking the Council to consider buying up more of the allotments and restoring the water supply to make them usable.
---
Hillgrove Crescent Trees?
Following a full inspection of roadside trees it is clear that the trees are generally healthy, report Siri, Mike and Fran. However the report recommends that the canopies be reduced by about 50% this year followed by pollarding in about 5-8 years time and that pollarding should then be repeated every 7-10 years.
We are now talking to the local Highways Partnership Unit to see how soon work can be carried out now that the Tories have slashed the County Highways budget.
---
Willow Green?
Residents are having problems with litter, especially bottles, being dumped in the Nature Reserve. We have asked the District Council to get it sorted!
---
Farfield Access Only?
?The Police seem to be taking far more action to enforce the Access Only?, reports Siri, ?with ?30 fixed penalty fines for drivers using the road as a ?rat run? ?.
One or two offending vehicles are sneaking back to park but hopefully they will get ?booked? ?
---
Offmore Primary School?
Temporary Classrooms?
The County is going to site temporary classrooms in the playground, behind the Shaw Avenue houses, to cope with the school?s expansion to a Primary School.
---
Coronation Way?
We are still chasing the Streetscene Team to get a bus shelter by the shops.
---
School catchment area review update
Formal Public Consultation on future School catchment area has now started and runs till 4th April. In the proposal:-
The catchment area for Offmore Primary is unchanged and remains same as now.

Comberton Primary would include all the present Comberton First School area (which already includes Willow Green) PLUS Chester Road South and the former Cattle Market site.
If YOU want to comment and haven?t had the full consultation documents then just let us know.
---
Highways chaos
The Tory County Council intend to close the local Highways Partnership Units and run it all from County Hall where it will be more remote and more out of touch. We believe this is bound to mean an even worse service locally on highway repairs.
---
Health! Primary Care Trust! As Tories lose the plot!
At the March District Council members through out a wishy-washy Tory motion which effectively said well we?d like to keep a Wyre Forest Primary Care Trust but, oh dear, we?ll put up with a whole of Worcestershire one if we have to.
Rest of Council stand firm
Instead Liberal, Health Concern, Labour, Lib-Dem and Independent Councillors voted to support a move proposed by Health Concern and seconded by Liberal Group Leader Mike Oborski that instead the Council should stand firm and FIGHT to keep a LOCAL Wyre Forest Primary Care Trust! We want local decisions on local issues?affecting local people?to be taken LOCALLY by LOCAL people!
---
?520,000 of YOUR money down the drain every year!
That is the official figure for how much money Wyre Forest is wasting every year by being spread out over lots of offices and buildings! This has got to stop! We must get Wyre Forest into a single site HQ as soon as possible and use that ?520,000 every year to provide services and hold down Council Tax increases!
---
Comberton Primary?
Siri reports that ?It looks as though the new Comberton Primary School will either have to use the two existing old mobile classrooms used by the Middle School OR, hopefully, have two new mobiles on the same site.?
---
Borrington BMX track?
The long awaited BMX track on Borrington Park is to be built during April, report Siri, Mike and Fran. Wyre Forest Community Housing will be holding a meeting for local youngsters to design the track.
---
St. Chad?s Garden?
Congratulations to the Church, OCAG and Wyre Forest Community Housing on the super new community garden at the back of St. Chad?s Church on Burcher Green. It looks great!
---
Offmore flats?
Communal Hallways?
Many residents have complained about the Housing Company making them remove carpeting, furniture and decorations from hallways and staircases. Apparently the Fire Brigade consider it all a fire risk. As a member of the Fire Authority Mike is taking this up to see what can be done.
---
Anti Social Behaviour issues on Comberton?
We are concerned about a small but significant upsurge in anti social behaviour by a few youngsters in the Comberton area. We are pushing for Police action and more ASBOs if needed. Parents of several youngsters have already had warning letters.
---
Former Gordon House Hotel Site?
Planners are set to approve proposals to convert 12 extra care flats (4 one bedroomed and 8 two bedroomed). There will also be an extra amenity space at the rear of 26 Comberton Road and a gated entrance and wrought iron fencing to the Comberton Road entrance.
---
Offmore Community Centre?
The County Council were supposed to be negotiating with the Housing Company to use the Community Centre for day care facilities for disabled people. As we went to press they seemed to be developing cold feet. How unusual!
---
Get in touch?
If YOU have a local issue or concern please get in touch today. Telephone Siri, Mike and Fran on 823911.
---
---

---